Cerritos Library's fine art collection features artwork by artists with national and international reputations. Located throughout the library, these works of art enhance and comment on the themes created for the various areas of the building. The Cerritos Library also features a special collection of book art titled "Art of the Book: The Book as Art."
Lita Albuquerque, Auric Field and Planetary Octave
Bruce Everett, Las Virgenes Valley
Peter Hopkins, Capital Project: Covered Site (LI#1)
Soonja Oh Kim, Two Figures B & R I
Karen Estelle Koblitz, nonFICTION
Jim Zhenhua Zhang, Spring Breeze, 2001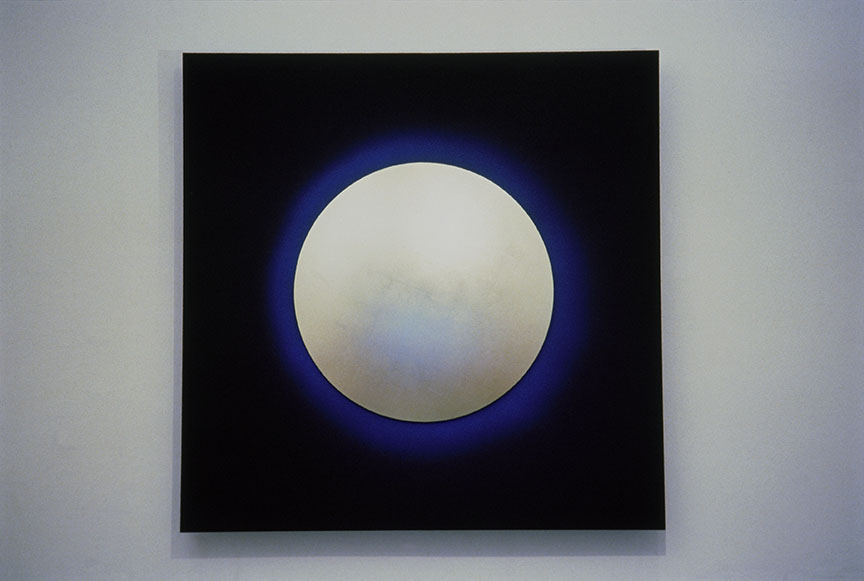 Auric Field, 2001
Location: 21st Century Area
Plaster, pigment and white gold leaf on maple panel
48 inches by 48 inches
Planetary Octave, 2002
Location: 21st Century Area
An installation of eight honeycomb aluminum panels with numbers written in plaster and glue and covered in 23-karat gold leaf. Eight resin discs covered in 23-karat gold leaf with the words "Light," "Energy" and "Information" written in seven languages and Braille.
Panels, 108 inches by 18 inches; Discs, 18 inch diameter
Auric Field, a commissioned companion piece to Albuquerque's Planetary Octave, can be viewed as an entry or closure to the installation. Auric Field derives from an ongoing series that Lita Albuquerque has employed to investigate her ideas about the origin of the universe and the relationship of man to the cosmos. A white gold circle emerges from dense black, natural pigment and is surrounded by an aura of lapis lazuli. The intensity of pigments and the contrasting colors visually radiate, causing an observer to experience a sense of energy, light and movement. Albuquerque speaks of elements in her work as metaphors. The undiluted pigments are symbols of the earth since they are substances mined deep within the ground. The circle is an emblem of the cosmos. The quality of light Albuquerque creates is a reference to the spiritual origins of man and the universe as expressed in many religious philosophies.
Planetary Octave, an installation by Lita Albuquerque, utilizes the creative problem-solving skills for which the artist is acknowledged. The eight vertical gold leaf panels and discs that make up the installation are located in a space that will not be seen as a whole because book stacks and design structures obscure sight lines. Therefore, determining how to develop her imagery and make the individual parts relate to one another presented a challenge that Albuquerque, experienced in public art projects, enthusiastically accepted.
Using a personal aesthetic vocabulary containing iconic shapes, forms, materials, text, and spiritual concepts that the artist has explored throughout her career, Albuquerque decided to treat the aisles between library shelving as pathways ending with glowing panels. Four of the panels look as if they were from an ancient culture, four others have a more polished, contemporary patina that is futuristic in nature. The panels are inscribed with numbers representing mathematics, the basic science of learning. Mathematics intrigues the artist, particularly its methodology for the study of time. She is also attached to words, numbers and script that serve as triggers of remembrance and information. The wall above the panels is the site for the eight discs displaying "Light," "Energy" and "Information" scripted in Chinese, English, Hindi, Japanese, Korean, Spanish, Tagalog and in Braille. The languages are symbolic of the traditions and heritage of Cerritos community members and also relate to the library's role as purveyor and custodian of information.
About the Artist
Born 1946, Santa Monica, California
Lita Albuquerque believes her search for universal subjects is an outgrowth of personal experience. When she was three years old, Albuquerque moved with her mother to Carthage, North Africa (present day Tunisia). Born Jewish, she was schooled at a Catholic convent in an Islamic country and learned French, English and Arabic. Familiar with many cultures, Albuquerque focuses on the homogeneity among them to develop her philosophical perspective. She continues to seek spiritual fulfillment and it is this search that informs her artistic expression.
Lita Albuquerque received her Bachelor of Fine Arts cum laude from the University of California, Los Angeles in 1968. She is the recipient of four grants from the National Endowment of the Arts, Art in Public Places program, in the years 1997, 1983, 1984, and 1990. In 1996 she was the United States representative to the Sixth International Cairo Biennale. Other grants and fellowships include the Sankristi Foundation Fellowship in the Visual Arts, New Delhi, India, 2002 and the Civitella Ranieri Foundation Fellowship in the Visual Arts, Perugia, Italy, 2001. Selected public art projects include Cathedral of Our Lady of the Angels, Los Angeles, CA, 2001; Giza Plateau, Cairo, Egypt, 2000; Tochigi Prefecture Health Center, Tokyo, Japan, 1996 and the Evo A. Deoncini Federal Building and U.S. Courthouse, Tucson, Arizona, 1999. Albuquerque has had many solo and group exhibitions in museums, university galleries and art centers. Her work is in the collections of several American Embassies including in Ottawa, Canada and Wyndhook, Namibia. Her work is also represented in the collections of the Getty Trust, New York City and Los Angeles; the Henry Art Gallery, Seattle, Washington; The Los Angeles County Museum of Art, California; The Museum of Contemporary Art, Los Angeles, California; the Whitney Museum of Art, New York City; Laguna Art Museum, California; the Newport Harbor Art Museum, California; The Nevada Museum of Art, Reno, and in numerous corporate collections.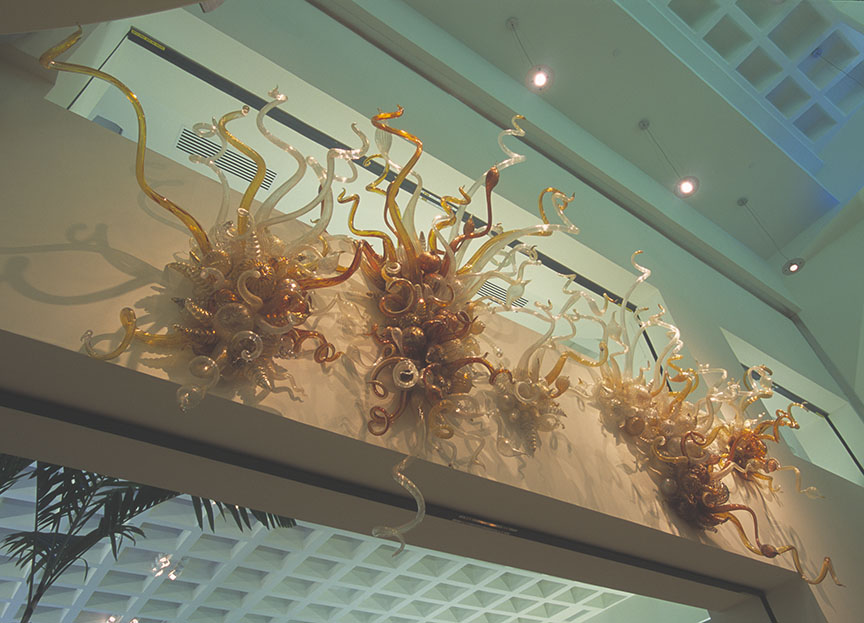 Untitled, 2002
Location: First Floor/Main Street
Blown glass and steel
An installation of 6 sconces comprised of 350-400 individual glass elements
Overall installation dimensions:  120 inches by 222 inches
The Cerritos Library's six-part installation by artist Dale Chihuly is a mix of dazzling blown glass wall sconces.  Looking like sea anemones, wild flower arrangements or spun sugar candies, these glass figures display lyrical lines and sensuous, lambent amber tones which grace the Library's "Main Street."  The work incorporates hybrid forms from a distinguished series that Chihuly began in 1995, a two-year international project entitled Chihuly Over Venice. With the assistance of glass factories in Finland, Ireland and Mexico, the project produced 14 Chandeliers which were placed at various sites over the canals of Venice.
About the Artist
Born, 1941, Tacoma, Washington
Dale Chihuly is the preeminent glass artist in the United States and internationally. Throughout his career he has been at the forefront of new ideas in glass making, and has single-handedly popularized the studio glass movement in the United States and abroad. Since he began creating glass in 1967 artists, museums, collectors and the the global community have recognized his aesthetics and imagery. Chihuly is acknowledged for his work and ideas that reach beyond the studio to challenging and varied environments. During the 1990's, he developed large-scale glass sculptures and created imaginative architectural installations. These works have influenced his peers and students and delighted the public.
Chihuly studied interior design at the University of Washington, took weaving classes and experimented with melting glass in order to weave small pieces of the glass into the tapestries. He also spent time working for an architectural firm. He went on to receive his B.F.A. from the University of Washington and an M.S. degree in sculpture from the University of Wisconsin, Madison, the first glass program in the United States. Chihuly continued his studies at the Rhode Island School of Design, Providence and received his M.F.A. in ceramics. He established the glass program at Rhode Island and taught there for over a decade. Chihuly received a Fulbright Fellowship in 1968.
At the Venini factory in Venice, Italy he observed a team approach to blowing glass and embraced the collaborative process for his own projects and ultimately for the benefit of other artists. In 1971, he co-founded Pilchuck Glass School in Washington where many artists learn new ways to use the art of glass in their own work. The team process became particularly helpful to Chihuly when in 1976 an automobile accident left him sightless in one eye. Now collaborating with artists, glass blowers, architects and engineers from all over the world not only inspires him but allows him to execute his expansive artistic concepts.
Chihuly pieces can be found in the permanent collections of over two hundred museums worldwide including the Smithsonian American Art Museum, Washington D.C., Musée des Arts Décoratifs, Palais du Louvre, Paris and the Metropolitan Museum of Art, New York. Over 100 public sites around the world feature Chihuly installations including a 1999 installation titled, Chihuly in the Light of Jerusalem, Tower of David Museum, Israel. The artist considers this project to be his most ambitious to date. Chihuly has exhibited extensively, most recently at the Victoria and Albert Museum, London and at the botanical garden, Garfield Park Conservatory, Chicago. He is also exhibiting at the Olympic Arts Festival at the Salt Lake 2002 Olympic Winter Games. The Chihuly Bridge of Glass in Tacoma, Washington, will be completed in 2002. Selected awards include six honorary Doctorate degrees, a Louis Comfort Tiffany Foundation Grant and a National Endowment for the Arts Individual Artist grant.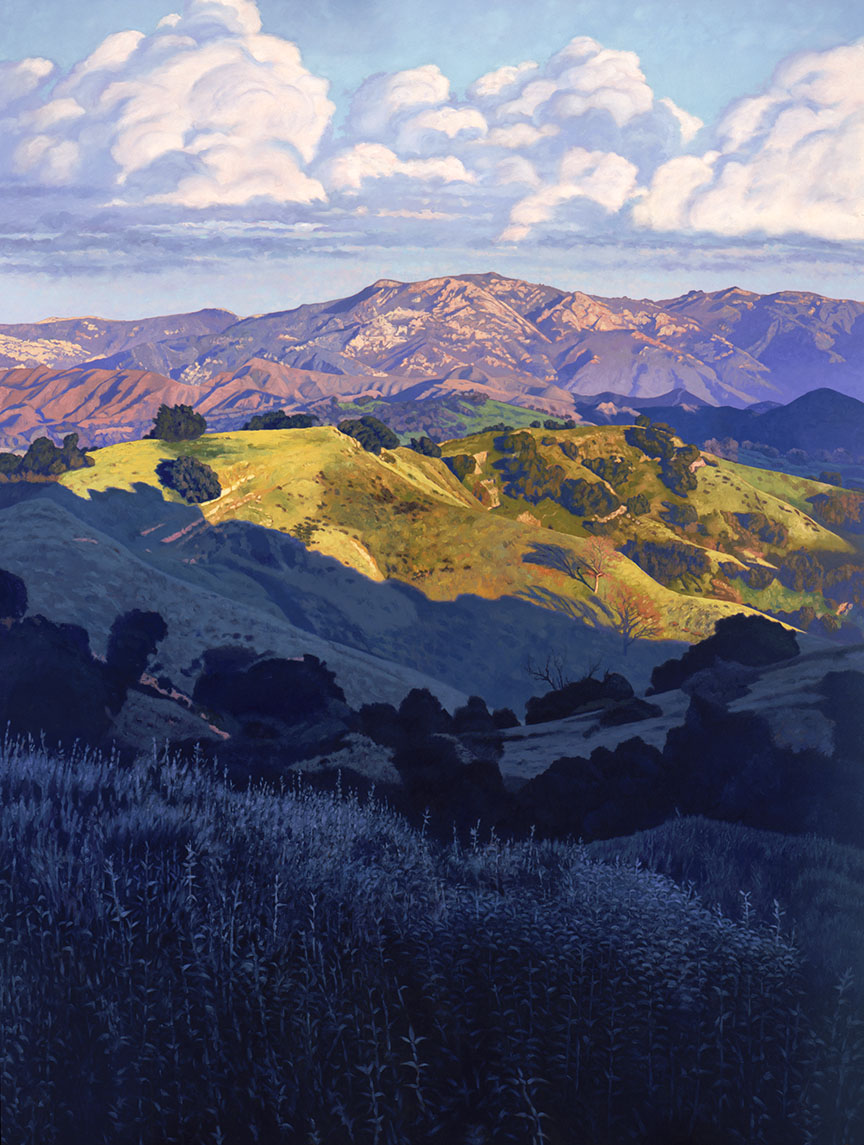 Las Virgenes Valley, 2001
Oil on canvas
156 inches by 120 inches
Las Virgenes Valley by artist Bruce Everett was commissioned specifically for its site in the Cerritos Library's craftsman area. In this work, Everett captures the sensibility of a California scene painting. However, he differs from Plein Air artists and those of the Arts and Crafts Movement in his use of contemporary materials, a larger scale, and the application of paint to emphasize the drama of nature through contrasts of dark and light. Landscape imagery was a typical subject for California paintings found in Craftsman era houses between 1910-1930. Everett has embraced California landscape imagery throughout his career.
Early Twentieth Century artists painted directly from nature, setting up their easels and paints outdoors to capture the scenes before them. This technique limited the size and perspective of their work. Everett also works in natural settings, but he takes his camera and photographs the landscape. Back in the studio, he develops his composition by juxtaposing landscape and cloud formations until he is satisfied with the result. He then projects the final image onto the canvas and draws a simplified outline from which he begins to paint.
Las Virgenes Valley captures the passage of time and the experience of place. The layers of information lead onward from the foreground that is filled with sage to the hills laden with brush, to the mountains and then to the clouds. In this manner, Everett creates a sense of mystery and participation, prompting us to question and imagine, "What is beyond each of the landscape vistas?"  Gazing at this towering painting, a viewer may be filled with awe at the wondrous bounty of California's landscape, which inspired reverence among the early settlers to our state. However, the viewer also may become aware of how quickly the environment is disappearing.  
About the Artist
Born 1942, Los Angeles, California
Bruce Everett's technical mastery became evident at an early age. Upon visiting the Chicago Library as a young boy, he saw a mural size painting that inspired him to follow a career in art. This Library connection makes the Cerritos painting a very personal and meaningful statement. Everett studied painting at the University of Iowa and University of California, Santa Barbara, graduating with a Master of Fine Arts in 1968. Although he was trained as an abstract painter, he later became interested in portraying the landscape in a realistic manner. The Cerritos painting combines abstraction and realism through aspects of textured brushwork and through the contrast of shadow and light. Everett uses a personal geometric structure to compose this precisely accurate and highly resolved image.
Everett lives and works in Los Angeles County. He has displayed over 10 solo exhibitions in Los Angeles and New York galleries since 1972, and has participated in many group exhibitions at museums and galleries throughout California. Many of the exhibitions have portrayed the theme of landscape imagery. Everett was a professor in the painting department at California State University, Northridge where he taught since 1970. His work is in the collections of the Aldrich Museum of Art, Ridgefield, Connecticut, Palm Springs Desert Museum, University of Iowa, Iowa City, University of California, Santa Barbara and Yale University, New Haven, Connecticut. He is also represented in numerous corporate collections.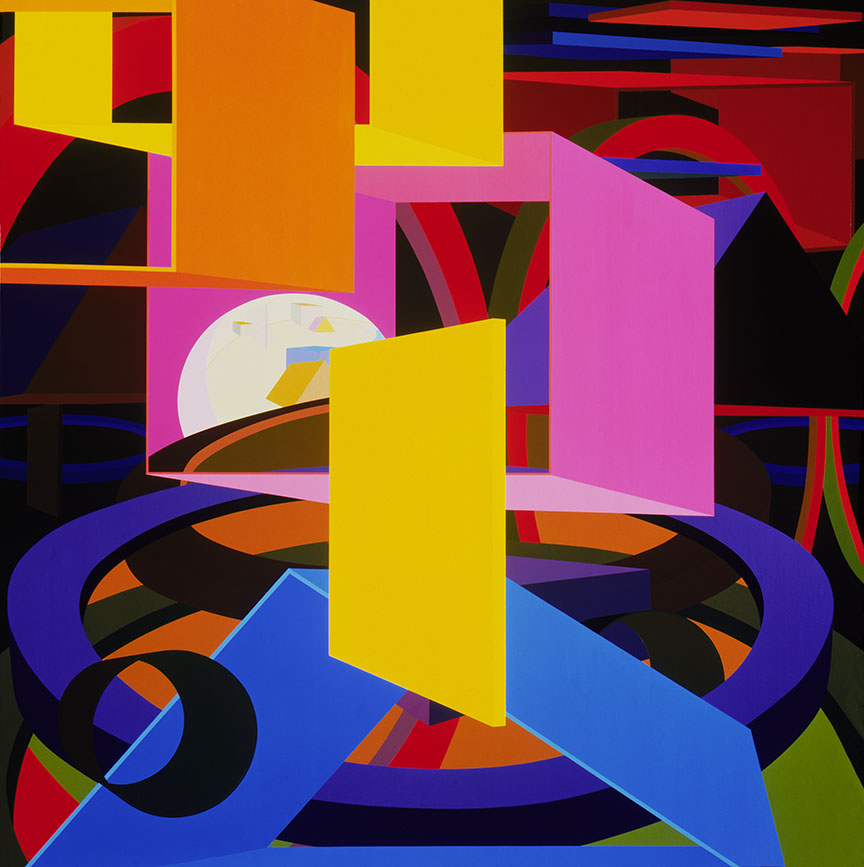 Quattro Centric XIV, 1990
Acrylic on canvas
108 inches by 108 inches by 4 inches
The primary colors and geometric shapes of Al Held's Quattro Centric XIV reflect the contemporary forms and primary colors in the interior space of the Cerritos Library's second floor.  The artist has effectively used a large-scale format to explore the boundaries of geometry in two dimensional space.  He has created a painting that exudes a powerful and futuristic presence.
About the Artist
Born 1928, Brooklyn, New York. Died 2005, Todi, Italy
Acknowledged as an articulate individualist and a maverick, Held began his career as an Abstract Expressionist painter.  He filled his canvases with broad gestured strokes and thick layers of paint.   His early work received much attention, but Held moved away from Abstract Expressionism and studied the illusionism of perspective and geometric art.   From 1966 to 1978, he painted exclusively in black and white, exploring complex juxtapositions of angles and volumes.  In 1981, he went to Italy as an Artist-in-Residence at the American Academy in Rome where he learned the geometric and spatial issues of Early and High Italian Renaissance painting and architecture.  The knowledge he gained had significant impact on the very large, full-color pictorial constructions he created on canvas, such as the one in the Cerritos Library Art Collection.  In the Cerritos painting, Held sanded the acrylic surface and repeatedly repainted it, until he achieved the desired uniformity and opaque perfection that concealed all evidence of the process.  Moving a successful career from action painting (Abstract Expressionism) to a dissimilar aesthetic of hard-edged forms with extremely refined surfaces is an unusual achievement for an artist.  One interesting observation of this visual transition is that Held's paintings now display the quality of movement through the use of geometry and color that he earlier achieved by the movement or mark of his paint-laden brush.
Held studied at the Art Students' League, New York City and the Academie de la Grande Chaumiere, Paris.  He was a professor of art at Yale University, New Haven, Connecticut from 1962-1980.  In 1966 he was awarded a Guggenheim Fellowship and in 1982 he was elected to the Board of Trustees of the American Academy in Rome.  He is a member of the American Academy and Institute of Arts and Letters in New York.  His has exhibited in more than 150 group and 75 one-person exhibitions and his paintings are in the permanent collections of museums throughout the United States, Australia, Germany and Switzerland.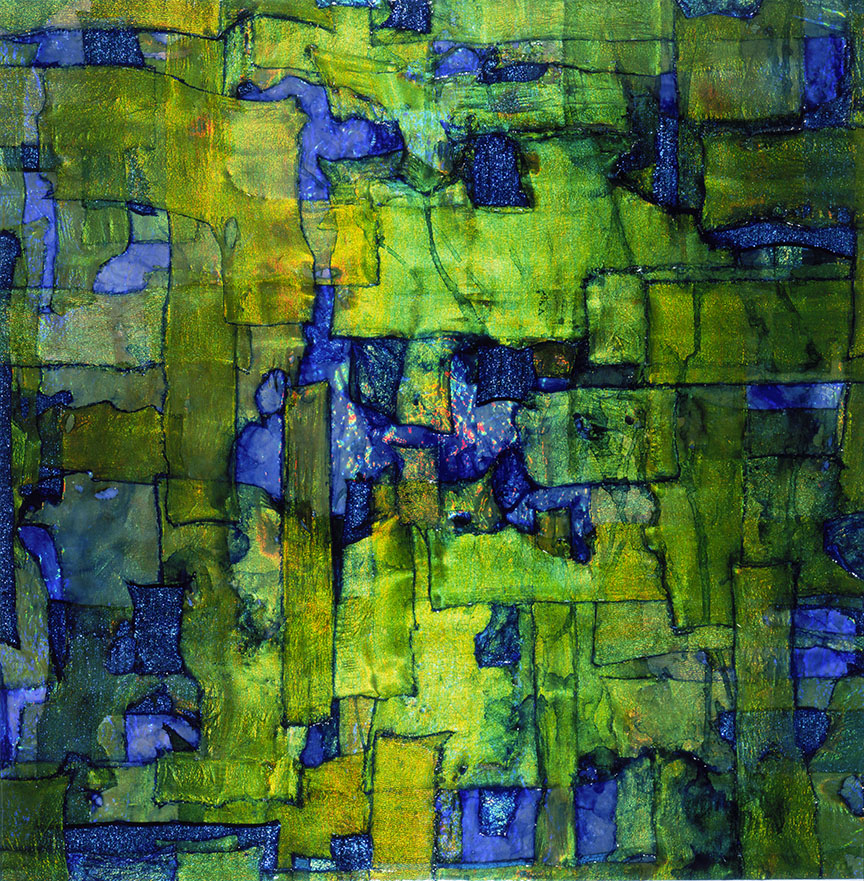 Capital Project: Covered Site (LI#1), 2001
Mixed Media including holographic foil and resin
60 inches by 60 inches
In Capital Project: Covered Site (LI#1), Peter Hopkins produces extraordinary and seductive surfaces and then makes us look again by questioning what is below the gloss.  He uses mixed media to create images of beauty, which emphasize the sensual and tactile.  Hopkins incorporates influences of stained glass windows that have captivated audiences throughout western history.  Other surfaces are contemporary in their resin coverings; people familiar with the slick plastic finishes of art developed from the California airplane industry during the 1960's find themselves perfectly comfortable.
These paintings are made without paint or brush.  They are constructed of materials such as holographic foils, cheap, glittery fabrics, household cleaning liquids, cosmetics, surgical dyes and recycled rubbish.  Conceptually, Hopkins is asking us to consider the dichotomies between outside and inside.  He awes us with the beauty of materials that in another context as chemicals or debris become destructive to the natural environment and ourselves.  Peter Hopkins' images seem to undulate as we walk by; as the light changes, so do our perceptions of color, depth, and composition.  Ultimately, Hopkins is urging us to view more deeply, to look beyond the exterior and to find knowledge and understanding through both analytic reflection and emotional response.
About the Artist
Born 1955, Framington, Massachusetts
Peter Hopkins works in Brooklyn and lives in Connecticut.  He received his Master of Fine Arts in 1982 from the University of Wisconsin, Madison, and his Bachelor of Fine Arts from the University of Massachusetts, Amherst in 1978. Hopkins has shown throughout Europe since the mid-1980s, including exhibitions in Paris, Cologne, Vienna, Geneva, and Amsterdam.  In 1992, he was represented at Documenta IX, in Kassel Germany, and in the 44th Corcoran Biennial, 1995, Washington D.C.  His work is in many private collections; his public collections include the Kunsthalle, Cologne, Germany and the Foundation Goetz, Munich, Germany.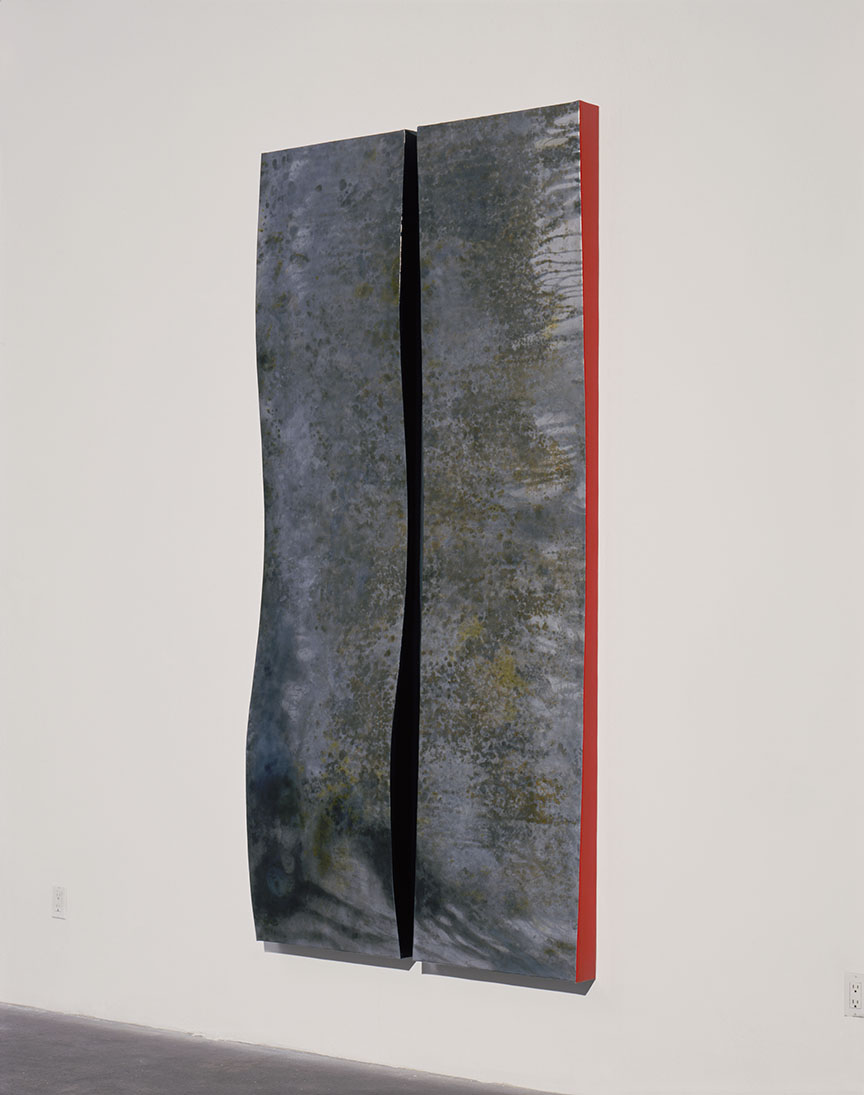 Two Figures B & R I, 2001
Muriatic acid, enamel and ink on aluminum over wood construction
8 feet by 4 feet by 6 inches
Soonja Oh Kim explores the relationship of opposites in her wall piece, Two Figures.  This work combines two-dimensional painting with three-dimensional sculpture, expressing a concept of contrasting dualities that has challenged the artist since her student years.  The work embodies both geometric and organic shapes with one panel containing a flowing contour and the other remaining a delineated rectangle.  Kim's aluminum over-wood-structure appears at once hard and soft, old and new, heavy and weightless.  The etched and painted surface exhibits spontaneity and order, as well as simplicity and complexity.
By pouring muriatic acid over the panels, Kim permits the acid to penetrate the aluminum and produce textured, painterly patterns of abstraction.  She has mastered this process, but an element of chance is always present.  Exactly how the acid will fall and react with the metal surface is a tenuous balance between chance and control that intrigues her.  Kim then brushes an ink wash over the piece, freely emphasizing random patterns which often resemble shapes of clouds.  The resulting patina has an ancient, historic quality while the totality of the structure is completely contemporary, a minimalist geometry of black and red.
By titling the piece Two Figures, the artist associates her seemingly non-objective format with the human body and refers to its red siding as a symbol for the internal and organic.  The external may be considered the aluminum skin, sometimes compared to Asian kimonos, and more recently to Asian scrolls.  This dialogue of contrasts portrays the confluence of East and West present in all of Kim's work, juxtaposing expressionistic energy with Zen-like tranquility.
About the Artist
Born 1947, Seoul Korea
Soonja Oh Kim is an instructor of art at California State University, San Bernardino.  She grew up in Korea, earned a Bachelor of Arts degree from Ewha Women's University in Seoul in 1969 and a Masters of Science degree in library science from Villanova University in 1971.  Upon moving to California, Kim studied art at California State University, San Bernardino and then received her Masters of Fine Art in 1989 from Claremont Graduate University, Claremont, California. She has had many solo exhibitions in galleries throughout California, Tokyo and Germany.  Selected public collections include: Total Museum, Seoul, Korea; The Azabu Museum of Arts, Tokyo, Japan; Embassy of the Republic of Korea, Tokyo, Japan, and the Robert V. Fullerton Museum, California State University, San Bernardino.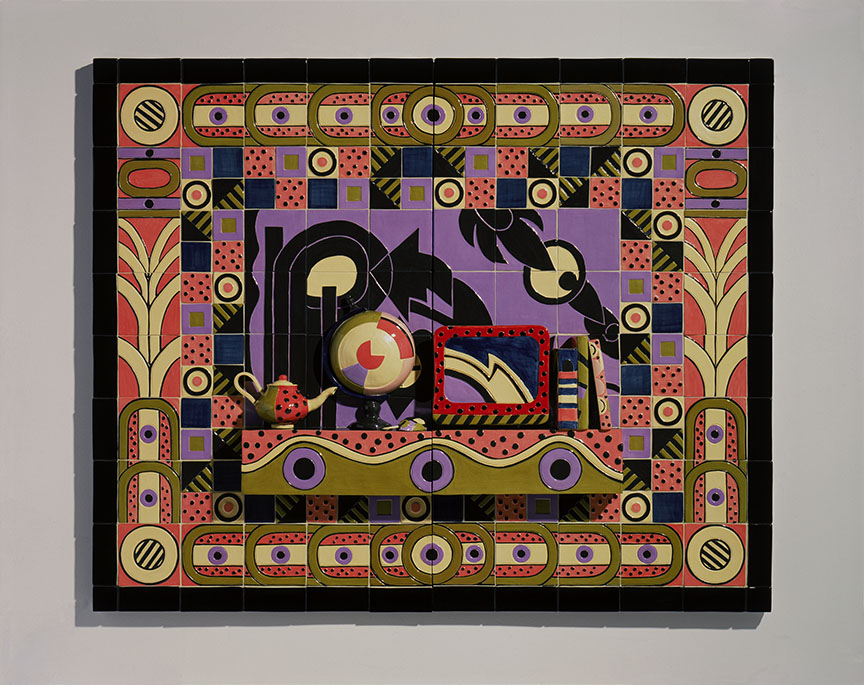 nonFICTION,  2001
Ceramic tiles-hand carved, press mold technique;
Slab built and wheel thrown objects
48 inches by 60 inches by 5 1/4 inches
When Karen Koblitz created nonFICTION for the Art Deco area at the Cerritos Library, she carefully considered the colors and decorative details of the site's interior. She also examined the art, architecture and ornamentation of the Art Deco Movement (circa 1920s) before presenting a final design that would become the model for this ceramic relief.  Studying the history of decorative motifs is not a new process for Koblitz, and is a discipline that intrigues and inspires her.  It appears in earlier work where she looked to the California Arts and Crafts Movement for inspiration and then created a series of tile wall pieces. For another series, she studied the works of Henri Matisse, her favorite artist.  Another aspect of Koblitz's art has been her enduring passion for Italian ceramics.  She traveled to Italy during college and then returned in 1990 to spend time at a leading factory in Deruta, one of the major centers for maiolica ceramics.  Here she gained respect for the history of maiolica ceramics, designed dinnerware, and learned about patterning, color and surface texture.
For the library project, Koblitz considered the purpose of the young adult space that was chosen for her commission. She then created slab built or wheel thrown objects - a mystical lamp, a globe, a computer and mouse and books to place on the nonFICTION shelf. The genie lamp signifies the hopes and dreams possessed by this generation on the brink of leadership and the globe represents the world that is soon to be placed in their hands. The computer stands for the ever-advancing role of technology and the books are icons that relate the library's mission as a repository for transmission of past, present and future knowledge. Koblitz calls her objects "Still Lifes," and she thinks of them as "contemporary collectibles," symbols of today's popular culture placed within the context of both Art Deco and ceramic history.
Rich in the use of color, this playful tableau is filled with dynamic patterns and subtle textures.  Using the press mold technique, the artist begins by carving her original design into the clay.  While the clay is still wet, she forms a plaster mold and then removes it to produce a negative image.  Clay slabs are placed on the plaster form, pressure is applied and the resulting positive image is released and cut to the correct size.  Each handmade tile has its own signature with varying surface density and texture that adds to overall interest and complexity. To achieve lively color, Koblitz applies an under-glaze colorant before a preliminary bisque firing. She fires the pieces or tiles again with a transparent, glossy or matte glaze on special tile setters that give an even heat distribution throughout the kiln producing a consistent glaze color. Koblitz has written, "I appreciate and enjoy the expressive quality of color and like to utilize matte surfaces against the high gloss, and the opaque against the transparent."   When all the individual pieces are completed, the tiles are attached in their final format to a wooden frame with a tile adhesive.
About the Artist
Born 1951, Los Angeles, California
Karen Koblitz received her Masters of Fine Arts degree from the University of Wisconsin, Madison in 1976 and her Bachelor of Fine Arts degree from the California College of Arts and Crafts, Oakland, in 1973. She taught at the University of Southern California, Los Angeles, School of Fine Arts. She has also been a lecturer at the University of California, Los Angeles and from 1982-84 was an Assistant Professor of Art, Head of the Ceramics Department at the University of South Carolina, Columbia.
Koblitz has exhibited her work in solo exhibitions and in more than 75 group exhibitions since the 1980s.  Numerous public art projects include: Homage to North Hollywood, Los Angeles, 1993, in conjunction with the Community Redevelopment Agency; the Sunland Tujunga Public Library in 1995, through the Los Angeles Cultural Affairs Department; The Children's Wall at the Wilshire Boulevard Temple, Los Angeles, 1998 and a mural installation in downtown Inglewood, California through the Inglewood Cultural Arts Center in 2000.   Koblitz's public collections include:  Los Angeles County Museum of Art; Renwick Gallery, Smithsonian American Art Museum, Washington, D.C.; Boise Art Museum, Boise, Idaho; Skirball Cultural Center Museum, Los Angeles, California; The Contemporary Museum, Honolulu, Hawaii; The Schein-Joseph International Museum of Ceramic Art, Alfred, New York and the Museo di Ceramica Contemporanea, Deruta, Italy.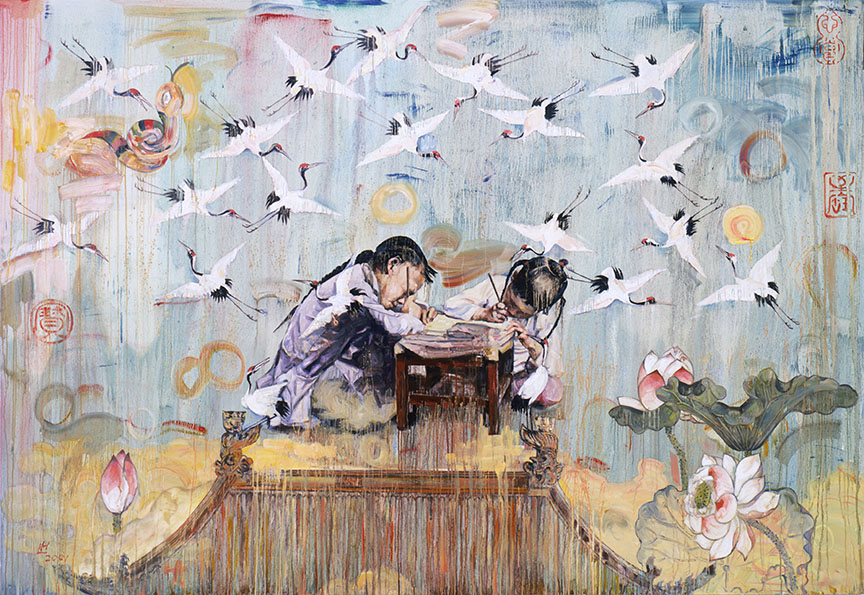 Above the Clouds, 2001
Oil on canvas
78 inches by 114 inches
Hung Liu stresses the significance of education for Chinese youth in her painting commissioned for the Cerritos Library.  Its title (Ling Yun) is a metaphor describing the heroes of old who had "ambition so high" that their minds soared Above the Clouds. Liu began this painting as she does all her work, with an historic black-and-white photograph. She then layers her canvas with Chinese symbols which reflect both myths and meanings.
The children in the painting are diligently studying their lessons. They ascend above a palace roof, an image taken from a 10th Century Sung Dynasty painting. The children are surrounded by flying cranes often associated in Chinese mythology with the heavenly qualities of longevity and serenity. Liu visualizes these children as learning their cultural heritage and transmitting its blessings beyond the present and into the future. As veils of memory are portrayed by the artist's dripping paint technique, the vast potential for life and knowledge is melded with the richness of the past.
In the bottom half of the painting, the Lotus flower has roots in the earth, portrayed as a plain background. However, as the flower blossoms a desired and pure state is achieved. The Lotus is revered and associated with Buddhism's concept of serenity. Other symbols in the painting are a snake that symbolizes the creation date of this work, the Year of the Snake, and chop marks identifying ownership by collectors who regard their art as a treasure.
About the Artist
Born 1948, Changchun, China. Died 2021, Oakland, California
Hung Liu was a student artist in the People's Republic of China during the Cultural Revolution of the 1960's. She understands the role of history and its changing interpretations. As a young woman, she was sent into the country to work as a peasant of occupation for four years. Later, resuming her studies, she graduated with a Master of Fine Arts degree equivalent in 1981 from the Central Academy of Fine Art in Beijing where she trained as a social realist muralist. Liu came to the United States to earn a graduate degree in art at the University of California, San Diego.  At UCSD, she was exposed to a variety of art styles, particularly the action painting of Willem de Kooning and Jackson Pollock. She was also influenced by the idea-based art taught by Allen Kaprow, her faculty adviser. Liu drew upon all these life and learning experiences and incorporated them into her compositions. The resulting paintings are complex works that speak to issues of individual and cultural identity with varied political and philosophical viewpoints.  All of the works exhibit the artist's skill in both traditional and contemporary painting techniques. Liu's art represents a personal journey and a collective history from her background and heritage.
Liu was appointed Professor of Art at Mills College, Oakland, California in 2001. Liu's grants and awards are extensive, beginning with a 1984 research assistant position at University of California, San Diego; the National Endowment for the Arts Painting Fellowship, 1989 and 1991; the 1992 Society for the Encouragement of Contemporary Art Award, San Francisco Museum of Modern Art; and the Joan Robert Danforth Distinguished Professorship in the Arts Endowed Chair, Mills College, Oakland, CA, 1999. She also received the San Francisco Women's Center Humanities Award in 1996. Liu has shown more than 40 solo exhibitions in universities, museums, and art centers throughout the United States. One survey exhibition, a 10 year event organized by the College of Wooster Art Museum, Wooster, Ohio, traveled to six venues throughout the country. Her work is featured in the public collections of many American museums including the Dallas Museum of Fine Art, The Los Angeles County Museum of Art, The National Museum of American Art, Washington, D.C., the Oakland Museum of Art and the San Francisco Museum of Modern Art.  Her work can be found in the City of San Jose and the City of San Francisco's collections as well as that of the Moscone Convention Center and in numerous university collections.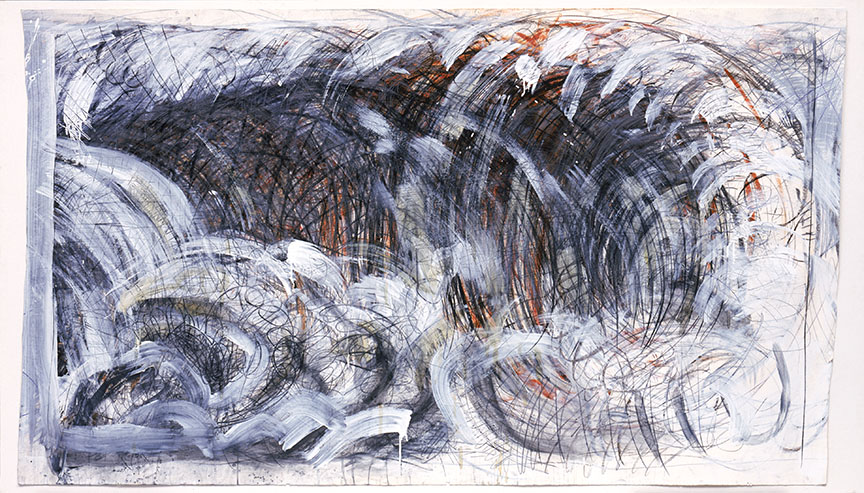 Untitled (Wave Series), 1986
Mixed media drawing on paper
60 inches by 103 inches
An avid student of art history, Pat Steir draws from her knowledge of both eastern and western art traditions in creating drawings and paintings. Looking at western art history, she re-interprets ideas and styles, creating new and original works with their foundations in the past. Absorbing Chinese painting and thought, Steir is influenced by the Daoist concept that painting is considered to be "thought in action." Her work incorporates the Chinese approach to art, which blends contemplation and careful planning with the completely spontaneous nature of creation. Accordingly, for Steir, thought, study and interpretation always precede the action of committing pen to paper or paint to canvas. 
"Untitled" in the Cerritos Library Art Collection is part of a series of paintings and drawings executed during the 1980s. Steir was fascinated with the nature of water, and she found many sources for study in the art of Asia and Europe. These influences included Katsushika Hokusai's color woodcut, "The Great Wave off Kanagawa" from the 1820s, and Gustave Courbet's 1869 "The Stormy Sea." 
Leonardo da Vinci's investigations of waves (ca. 1513) and nineteenth century artist J.M.W. Turner's paintings of storms at sea also enhance the symbolism and role of water in Chinese painting.  In paying homage to the artists of the past, Steir demonstrates her understanding of art history and brings new ideas to the Library's wave drawing.
The drawing, executed on a large irregular sheet of paper with graphite, crayon, pastel, charcoal and gouache, depicts the force of nature.  Its size and assertively marked lines express the robust energy of the artist and suggest the power and dynamics of water as it breaks on the shore.
About the Artist
Born 1940, Newark, New Jersey
Pat Steir lives and works in New York and Amsterdam. She received her Bachelor of Fine Arts degree from The Pratt Institute, Brooklyn, New York in 1962 and in 1991 Pratt awarded her an Honorary Doctorate of Fine Art. She has received National Endowment of the Arts and Guggenheim grants. She has taught at Parsons School of Design, Princeton University, Hunter College and California Institute of the Arts. Her work is in the permanent collections of many museums including:  Dallas Museum of Fine Art, Texas; The Irish Museum of Modern Art, Dublin, Kunstmuseum, Bern;  Metropolitan Museum of Art, New York and the National Gallery of Art, Washington D.C.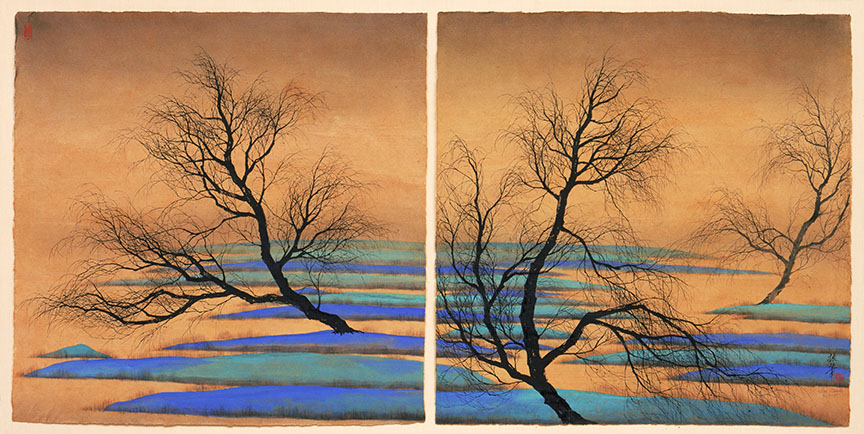 Spring Breeze, 2001
Watercolor and ink on rice paper
Diptych, each panel 32 inches by 32 inches
"A misty morning is about to commence as a hint of sunlight illuminates the desolate landscape. A gentle breeze passes through the willow trees and the ground begins to come to life. Teal green grass presses through the melted snow and life begins again after the long winter." These are the words of Jim Zhenhua Zhang, writing about his work, "Spring Breeze." His painting, based on a similar work from 1997 titled "Springtime," is an image of a serene lakeshore that evokes memories of Zhang's home town located in the Jiangsu Province in China.
Spring Breeze contains elements of traditional Chinese painting such as the diptych format and the use of calligraphy and washes to create a contemplative atmosphere. The art of Chinese painting emphasizes spiritual aspects of nature, asking the artist to look within, awaken the spirit, and become one with nature. The outcome of this process is a sense of timelessness and tranquility. In "Spring Breeze," Zhang arranges grass and trees into flattened patterns of color and imagery without shading or transitions between day and night. There is no concept of perspective, nor any foreground or background. Instead, Zhang looks to Sung Dynasty landscapes and creates spatial relationships that have dreamlike qualities rather than the perception of distance found in western art. 
About the Artist
Born 1957, Xuzhou, Jiangsu Province, China
Zhang finds resources for his art from traveling experiences and his imagination as well as from the inspiration of his own meditations. Feelings of peace and spirituality are what the artist is seeking to convey in his paintings, reflecting in Zhang's artistic heritage.
From 1978-1985, Zhang majored in Chinese painting at Nanjing Art Institute and earned his Bachelor of Arts and Master of Arts degrees. He taught Chinese painting at Nanjing Art Institute from 1985-1986 and became an Artist in Residence at the Chisholm Institute of Technology in Melbourne, Australia. That same year, he was given a solo exhibition titled "Tranquility of Nature," at the Victorian Arts Center in Melbourne.  Jim Zhang came to the United States in 1987 and studied studio art, receiving his Master of Fine Arts degree at Louisiana Tech University, Ruston, Louisiana.
In 1990, he received a grant from the Pollock-Krasner Foundation in New York.  Locally, Zhang has been in group exhibitions at the Pacific Asia Museum, Pasadena; Occidental College, Los Angeles; The Art Rental Gallery, Los Angeles County Museum of Art; the Laguna Museum and the Armand Hammer Museum of Art and Cultural Center, Los Angeles.  He has had a one-person exhibition at the Vincent Price Gallery, East Los Angeles College, 1992 and in 1997-1998, he was a participant in UNICEF card publications sponsored by the United Nations.